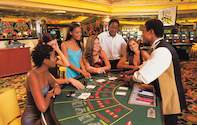 Sun City Resort activities and sightseeing options for travellers to Sun City Resort in South Africa.
You will never be bored at Suncity Resort, as it offers a huge variety of entertainment, facilities and activities for the whole family including Valley of the Waves and the world-famous Gary Player Golf Course and Lost City Golf Course.
Find out the best things to do in Suncity Resort.