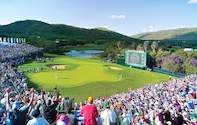 Nedbank Golf Challenge at Sun City Resort.
Take your Sun City golf game to a new level at the signature Garry Player Golf Country Club and The Lost City Golf Course.
The Sun City Resort has hosted the Nedbank Golf Challenge since 1981 on its world renowned Gary Player designed fairways. Boasting two landmark 18-hole championship golf courses and superb facilities, The Gary Player Country Club and the Lost City Golf Course in Sun City Resort, South Africa, although quite different from one another, offer first class Sun City golf in a fantastic setting.
Sun City Resort is 187 km (116 miles) from Johannesburg in the North West Province.
With more than $4 000 000 in prize money, the annual Nedbank Golf Challenge at Sun City Resort in December is a spectacular event which draws the very best golfers in the world to the Gary Player Country Club, Sun City Resort in a battle for supremacy.
This exceptional Sun City golf course is difficult and demanding. One of the longest world wide, it measures more than 7 km (4.3 miles) and requires staying power and accuracy from the players. Record numbers of spectators come every year to watch this exciting tournament and enjoy the Sun City Resort experience.
The Gary Player Country Club at Sun City Resort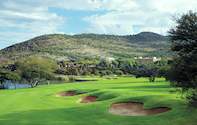 The Gary Player Country Club Golf Course in Sun City.
Positioned in the crater of an extinct volcano this is the original Sun City golf course designed by Gary Player, which takes top honours in a country with many world class courses. Visitors will find an 18-hole, par 72 walking course and running alongside, a 5 km (3 mile) jogging route.
The Club House looks out over the magnificent fairways and has a pro shop plus wellness and fitness facilities. The gymnasium has personal trainers and there is spinning studio as well as two squash courts. Hair and beauty treatments are offered at the spa which is also equipped with a Vichy Shower, hydro bath, spa pool and steam room.
The Lost City Golf Course at Sun City Resort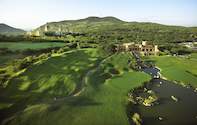 The Lost City Country Club Golf Course at Sun City.
Such was the popularity of golf at Sun City Resort that the design of another course was assigned to legendary Gary Player. The mandate was to create something really different! This unusual 18-hole, par 72 course is a cart course, with beautiful landscape variations including mountain, desert and African parkland.
Amongst the many water features are a lake and a hazardous 13th hole. Not for the faint hearted, there are 20 live Nile crocodiles in the water at this green! The stunning Club House, driving range and pro shop are a short walk from the Palace of the Lost City or a two minute shuttle bus ride from the Gary Player Country Club.
Take Note
Both Sun City golf courses at the Sun City Resort are closed on certain days in the week for routine maintenance; please enquire with your friendly Siyabona Travel Consultant for details when booking.